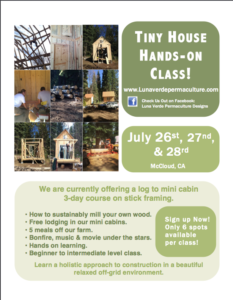 Welcome to Luna Verde Permaculture mini farm and workshop located in beautiful McCloud California at 4,300' above sea level. Here you will find chickens, ducks, goats, guinea hens, dogs, cats, plants, art and much more. We offer news and information on our off-grid homestead classes and planning services. From our passive solar designs, to our solar driven water wells we are sure you will find something informative for every age group and skill level. We offer weekend and day courses with farm meals and mini cabin or tent lodging provided.
New to Northern California? We'd be happy to take you on a tour of our local farms and natural attractions.
Check back weekly for updated blog and class lists!
---
Log to Mini Cabin Hands-on Class!
July 26th, 27th & 28th  2019
Sign up now: